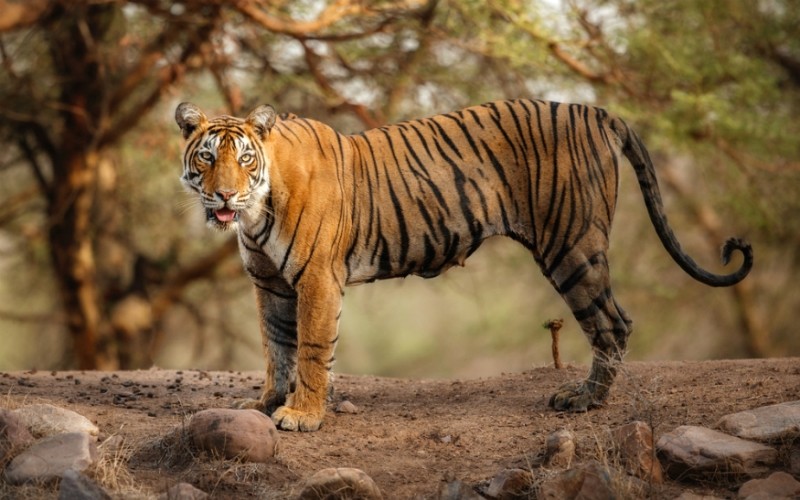 All the zoos, national parks, wildlife sanctuaries and tiger reserves of the country have been put on high alert due to the rising outbreak of Corona virus. The environment ministry on Monday advised the chief wildlife wardens of all states to restrict movement of people near national parks and sanctuaries. The ministry also advised to take immediate steps to prevent the spread of coronavirus disease (Covid-19) in all the national parks and tiger reserves of the country.
The Central Zoo Authority (CZA) on Monday directed all zoos to be on high alert and take samples of suspected animals. The advisory issued by the Central Zoo Authority (CZA) also recommends being highly cautious.
Fear of spreading corona in animals, instructions to investigate in zoos
The authority has also ordered 24-hour monitoring of animals through CCTV cameras and quarantining suspected animals and sending samples for examination every 15 days.
The alert was issued after reports of a positive Malayan tiger test for Coronavirus Covid -19 at the Bronx Zoo in New York. All tiger reserves in India have been put on alert after testing positive for coronavirus of a tigress named Nadia at New York's Bronx Zoo. This is the world's first known case of corona virus infection from humans to animals.
National Tiger Conservation Authority (NTCA) alert after tigress infection found in US zoo
Chief Wildlife Warden Arindam Tomar said, "All the national parks and zoos in the state have been put on alert. Instructions have been issued to monitor the health of big cats.
He read the letter written by AIG NTCA Vaibhav C. Mathur, "I am directed to inform that due to the communicable and zoonotic nature of the said disease, action should be taken to prevent the disease in wild tigers in India."
The NTCA's advice to the state also includes that tigers may be seen for symptoms consistent with Kovid-19, such as respiratory symptoms of nasal discharge, coughing, and laboratory breathing, in addition to possible direct observation. Through camera trap images for visual features. A senior official of Ranthambore National Park said, "Any tiger, if it goes into human settlements that will be tranquilized and tested."
Monitoring the unusual behavior of animals
Jaipur Zoo veterinary officer Arvind Mathur said that CZA advised it to stay on the highest alert, watching 24×7 animals including CCTV footage for any unusual behavior / symptoms. He added, "Keepers / handlers will not be allowed in the vicinity without safety gear, preferably personal protective equipment ( PPE), isolating and quarantining sick animals and minimally contact while providing feed to animals needed," .
The letter also mentions that carnivores, especially cats, ferrets and primates, need to be carefully monitored. Mathur said, "If any symptoms appear in the big cats, we have been directed to send samples of suspected cases to the designated animal health institutes in a fortnight to start the covid-19 test.
The tigers of the sanctuary will have a corona test
There will be a corona test of the tigers of the wildlife sanctuary. As soon as the tigress was found to be corona positive at the American Zoo, the National Tiger Conservation Authority became alert and ordered a corona test of wildlife in all zoos in the country.
In addition, management of tiger reserves has been instructed that if tigers along with other predatory animals move out of the forest and obtain information about variance, a corona test will be performed.
If an animal is tranquilized for any reason in the forests during this period of epidemic, its saliva sample should be sent to Bharatpur, Pune, Hyderabad, Bareilly etc. laboratories for corona test.
By the authority's order, the administration has increased vigilance in the forests of the National Tiger Project Ranthambore, Tiger Reserve Sariska and other sanctuaries.