Local Attractions
Ganesh Temple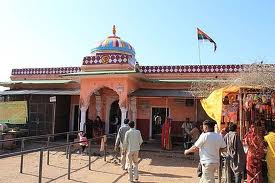 Ranthambore Ganesh Temple is very old temple and located at Ranthambore fort. It is very heart touch place for  devotee and visitors. Ranthambore Ganesh Temple dedicated to Lord Ganesha, and around 12 kms from Sawai  Madhopur.It is said that; in 1299 AD, there was a war between King Hammir and Alauddin Khilji. During the time of  war they filled there godowns with foods and all the necessary things in Ranthambhore Fort, where King resides.  Since the war lasted for several years, the stock in go downs were over. One night when King Hammir; who was a  great devotee to God Ganesh, was sleeping, he dreamed that Lord Ganesh came to him and said that by tomorrow  morning all the problems and lacking would be over. In the morning an idol of Lord Ganesh with three eyes (Trinetra), embossed from one of the fort's wall. As a miracle the war was over and the godowns were full. In 1300 AD King Hammer built a temple of Lord Ganesh and placed Riddhi Siddhi, his wife and two sons Shub Labh along with the idol of Ganesh. His vehicle mushak (mouse) is also placed there.
Ganesh Chaturthi holds a special place in Ranthambore and is celebrated to commemorate the origin of Lord Ganesh, who is said to have been born on this day. On this day, thousands of devotees visit the temple. There are songs and 'bhajans' praising Lord Ganesha.The Ganesha temple in the fort of Ranthambore is one of the most eminent Ganesha temples of Rajasthan.
---
Rajiv Gandhi Regional Museum of Natural History (RG RMNH)
 Rajiv Gandhi Regional Museum of Natural History, sawai Madhopur the historical city of Rajasthan which is  renowned for an important project Tiger site in Ranthambhore. It is designed to fourth Regional Museum of  Natural History  of  Western Region in Sawai Madhopur. The Museum is situated at Village Ramsinghpura , Sawai  Madhopur Rajasthan India. It is spread over an area in 7.2 acres of land. Village Ramsinghpura is around 9 km  away from Sawai Madhopur. This museum was conceived to highlight the natural heritage, plants and animals of  the western region of the country, besides acting as a resource center for public in general and children/student in  particular. The combination of the RG RMNH along with the Ranthambhore National Park and the culture heritage  hubs such as Shilpgram and Ranthambhore Fort has brought sawai Madhopur as one of the finest heritage attractions in the country.
Ranthambore museum is being opened with the gallery 1 on "Biodiversity of Rajasthan" or "Forests and Wildlife of Rajasthan". It depicts the diversity of Rajasthan with respect to its plants, animals, wildlife and forests. The gallery has digitally mounted panels, interactive exhibited and photographic depiction of wildlife, besides important dioramas on different themes highlighting human interface with nature in his/her efforts for conservation of nature and natural resources. It also includes a diorama of the Bishnoi community, famous for sacrificing their lives to save trees. Other Galleries to come up in future includes - Gallery 2 : Biomes & Ecosystems . Gallery 3: Desert. Gallery 4: Ecology (Nature's Network) & conservation. Gallery 5: Origin and Evolution of Life. There are other resources are Auditorium, Library and khojkaksh (Discovery Room). Visitor timing - 10:00 AM to 05:00 PM. Museum remains closed on Monday & National holidays.
---
Sawai Madhopur City
Sawai Madhopur is known to be a remote town in Rajasthan state and cannot be called to be a fully developed city,Sawai madhopur city was founded by Madho Singh I of Jaipur (1750–1768).The town was gifted by Mughal Emperor Shah Alam to Madho Singh I,who named the township after himself and was known as Madhopur till the time Mughal Emperor, Aurangzeb, impressed by Jai Singh's wit, bestowed him with a surname of " Sawai ". From then onwards, Madhopur became Sawai Madhopur.Sawai Madhopur's claim to fame today is the Ranthambore Fort and Ranthambore National Park.
The old city of Sawai Madhopur with the rolling hills of Aravallis and Vindhayas surrounding it is quiet attractive with a pleasant atmosphere.The city welcomes all its visitors with panoramic views of hillocks, Temples, old buldings,Kala-Goura bheru temple and Jain Chamatkar Temple.Sawai Madhopur is quiet well known for its local market ,bandhani, lahariya, block printed textiles, silver jewellery, antique furniture, wood, metal handicrafts, carpets as well as its exclusive toys, ethnic ornaments and costumes. Shopping for these items therefore means shopping for a lifelong memory of your visit to Sawai Madhopur. The topography in Sawai Madhopur is better than the rest of the state as the area has a lot of vegetation. The city is among the places that receive maximum rainfall as compared to other parts of the state.Sawai Madhopur is famous for its guavas, affectionately known as "Madhopur guavas" in Rajasthan.
---
Chamatkar Jain Temple
The Shri Digambar Jain Atishaya Kshetra Chamatkarji is situated in the historic city – Sawai Madhopur of   Rajasthan,which is surrounded by beautiful hills of Arawali mountain Range. The temple is situated only at a  distance of about 3 km from the Railway station. Chamatkar Temple is a superlative place for those who belong to  Jain religion. One of the most well known pilgrimage site for Jains all love the world, the Chamatkar Temple is one  of the most famous Jain Temples in the city. The word 'Chamatkar' means miracle. It has such a name as there are  a number of miracles attached to the temple. The temple is dedicated to Lord Adinath. The prime attraction of the  temple is the number of Jain Tirthankaras idols (24 Guru of Jain). There is also a belief attached to the temple. It is  believed that wishes made at this temple are always fulfilled.
---
Kala Gaura Bhairav Temple
 The Kala Gaura Bhairav Temple is one of the famous and unique temples in Sawai Madhopur city. It is a very exotic  temple made in a unique style that practices kriyas by tantric. This is a unique temple and probably one of the few  temples in the country where Tantrik rituals are practiced. The temple is a Nagara architectural style of temple with  curvilinear structure built slicing a hillock. The temple structure has multiple towers and many colorful chhatris  oblong and canopied. This place is considered sacred and holy by all the worshippers. They believe that whatever  you pray or wish in this temple, they come true.
The temple originally belonged to the Bhairav brothers. They were known as Kala bhairav and Gaura Bhairav. The idols of both are found inside the temple. In fact the both the brothers are worshipped by thousand of devotees. Inside the temple you will find idols of Lord Ganesha,Goddes Durga and Lord Shiva along with the idols of Bhairav brothers.
Ganesh idol at Kala Gaura temple is a rare thing in Indian culture. The temple houses the idols of Lord Ganesha and his entire family. It is believed that all ceremonies go well if you send an invitation to Lord Ganesha in this temple. Wedding invitations from different parts of the country were piled up inside the temple. We were amazed to know that the main priest reads out all invitations before the idol of Lord Ganesha. The place is visited by number of tourists all round the year.
---
Amreshwar Mahadeo Temple
Amareshwar Mahadeo Temple on the way to Ranthambhor National Park and approx 7 km from Railway station. This is oldest Shiva temple popularly known as Amareshwar Mahadeo It is located in the middle of high hills and is considered as a sacred temple. The Temple is one of the major religious attractions near the town of Sawai Madhopur with the beautiful green hills. Amareshwar Mahadeo is around 1200 years old temple as old as Ranthambhore Fort discovered past 300-400 years. To reach temple in early years was almost impossible because of dense forest all around. Till today one has to walk/drive for one km inside the forest area via Ranthambhore road. Later man made path was made. Shivarati is the day for Mela (fair) during day hours and Jagaran whole night. The temple is visited by a number of devotees who come here to pay their respects to the deity. 
Apart from its religious and historical significance, the temple has emerged as a major picnic spot for the residents of Sawai Madhopur with enchanting waterfall, nullah and beautiful groves in its vicinity during rainy season. There are different bath areas for men and women. The Temple attracts a number of tourists because of the surrounding natural beauty. 
---
Black Buck Sightseeing
Village Devpura is a home to the beautiful Black Buck, Devpura is approx.14 km from Sawai Madhopur.The 
blackbuck (Antilope cervicapra) is an antelope species native to the Indian Subcontinent .As the blackbuck range  has decreased sharply during the 20th century.The blackbuck is the only living species of the genus  Antelope. Males and females have distinctive coloration. Male blackbucks are dark brown, black, and the belly and  eye rings are white and have long twisted horns, while females are fawn-coloured (light-brown) with no horns.The  horns of the blackbuck are ringed with one to four spiral turns, with rarely more than four turns; they can be as long  as 79 cm.
Search the rural village area for these antelopes that roam freely. They are not found in the National Park.They generally live on open plains in herds of 15 to 20 animals with one dominant male. They are very fast. Speeds of more than 80 km/h (50 mph) have been recorded.Their chief predator was the now extinct Indian cheetah. They are now sometimes preyed upon by wolves and stray dogs.The diet of the blackbuck consists mostly of grasses, although it will eat pods, flowers and fruits to supplement its diet. The maximum life span recorded is 16 years and the average is 12 years.During the drive to village Devpura for black buck you can take a chance to see idle village life and culture. A walk around the village is an interesting option also, you can observe bandhani and lahariya, and block printed textiles, silver jewellery, wood, and carpets made by local women. 
---
Kuwalji Temple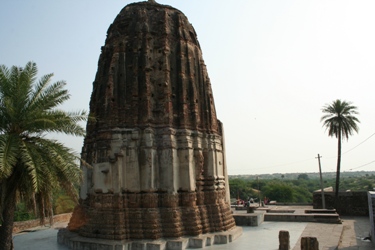 Hidden treasure in Ranthambhore called "Kuwalji Temple". It is around 40 km from sawai madhopur railway  station and situated in south west of the Rantahmbhore National Park enroute Phalodi and khanpur village,The  area includes the confluence of the ancient Aravalli hill system with the Vindhyan hill system due to which the  area is a very rich in bio-diversity.You can visit Devpura Dam on the way at Khanpur Village .Here you may have  the opportunity of sightings of Sambhar Deer, Indian Gazelle ( Chinkara), Blue Bull (Nilgai), Spotted Deer,  Langhur Monkey, Sloth Bear,hyena, Jackal, and many many birds. This area also boasts several Leopards and if  you are very lucky the King of the Jungle - the Tiger may well wander by!
The Kuwalji temple is dedicated  to lord Shiva.Hundreds of people come here to seek blessing of Lord Shiva for 
prosperity. The temple is said to have been built between seventh and ninth century. According to popular belief  the Pandavas during the period, they spent incognito, built this temple. Afterwards in the year 1345, this was repaired and renovated by Raja Jait Singh. As per history there were many temples.In 12th century by king Alauddin  khilji ( Second ruler of the Turkic,Khilji dynasty in India ) destroyed the temples.But all the stone with carving are  there near the temples.The subject of these carvings are Love,Yoga ( Meditation) Battlefield,Life style,  Dancing lady, animals including Camel,Tiger,elephant, cow etc. According to historians, it seems mini "Khajuraho" . Now there are two famous temple of 12th centaury Bijasan Mata Temple and Kamleshwar Mahadeo. One temple is  in good condition and one is knocked down, which is splendid example for architecture.The temple of  Kamleshwar Mahadev has been built on a platform 40 ft. high from the ground.There is Shiva lingam of red stone.  A snake of copper is also placed around the Shivalinga and above this hands a copper urn from which water drips  on the linga incessantly. Towards the west there is one more shrine of the deity, four armed. The interior walls of  the temple have been beautified with ceramic tiles.Daily worship and ritual Pooja is performed by the Nihang Naga  Sadhus of the Nath cult. Naga Sadhus in fact are the warrior sadhus who lived and moved collectively and they  were quite deft in handling of weapons. The primary aim of the Sadhus was to protect this seat they belong to from  the attacks of the invaders.Inside the temple and under the shikhar there are eight shikhar bracket-like projections  which also have statues encarved on them. The shikhar of the temple is almost as high as the lower part of the temple.The pyramid like shape of the shikhar becomes roundish upward and atop is a pinnacle. Outside the temple there are many Gongs hanging.
 The place is also popular for
the Baori (step well) and river " Chakal". Step wells are the unique concept of  India.These big tanks were used as cool places and water reservoir in parched days. It was a ritual to wash hands  and feet before visiting the temple.There are three Baori (step well) where people take holy bath for removing  skin problems.People believe that their diseases are cured if they take a dip in the scared water of this step well  and they believe that by offering worship at this place they can regain their lost health and various diseases  specially mental and of skin are cured. Around are built other cenotaphs which must have been built in the  memory of the old priests. Also you can enjoy the small local market around the temples where shopkeeper sell goods of worship. sweets, photo of temple, food, etc.
---
Rameshwar Ghat
Rameshwar Ghat situated around 65 km from Sawai Madhopur on the confluence of the Banas and Chambal rivers.The river Chambal originates from Vindhyanchal mountain ranges at Mahu in Madhya Pradesh. This river flows in the North-Eastern parts of M.P.,Rajasthan & U.P. and ultimately merges in Yamuna river at Etava in Uttar Pradesh. The one kilometer width of the Bank of Chambal river extending up to a length of 700 KM has been declared by the all the three states as the National Chambal Sanctuary. Thus this constitutes Asia's only reverine eco-system sanctuary.The area of about 625 sq.k.m. of Chambal river passing through five districts of Rajasthan viz. Kota, Bundi, Sawai Madhopur, Karoli and Dholpur was declared as National Gharial Sanctuary vide notification dated 16-7-83. 
There is a beautiful temple of lord Chaturbhuj nathji as well as a Shiva temple on the Rameshwar ghat of chambal river. Which is very old monument but due to lack of care,it is collapsing. A famous yearly mela (fair) is organized a fortnight after deepawli on next poornima. Thousands and thousands people gather here in this fair from Sawai Madhopur,Kota,Baaran districts of Rajsthan and from Sheopur dist. of M.P. As there is vast and plenty religious activities in khandar pargana (local terretory) like Geeta Bhawan Satsang Mandals, Akhand keertan and ramayan paath (reciting) is continuously in movement since so many years. People got inspiration for these activities from famous divine brahmeen mahatma Shri Krishnanand ji.
To reduce tourist pressure from Ranthambhore National Park the area from Palighat to Rameswar ghat of National Gharial sanctuary is proposed to be opened for the tourists.The tourists can have opportunity to see wild animals like Chital, Sambar, Chinkara, Nilgai, Hyenas, Fox, Jackal, desert cat, fishing cat and Mongoose etc.The tourists will have the view of aquatic animals like Otters, crocodile, tortoise,snake, fishes etc. In addition around 154 bird species are found in the area.The main species of birds include Brahmani duck , Coot, Red Crested pochard, Pintail, Barheaded goose etc.,and enjoy the scenic beauty of the river bank.
Other Excursion in Sawai Madhopur and nearby : 
Chouthmata Temple | Shivad Temple | Shree Mahaveer ji Temple | Mehndipu ke Balaji | Bundi