Safari Zone

A Travel Guide for Ranthambore National Park Safari Zones
Ranthambore National Park is one of India's most famous National Parks. Its name has been taken from its picturesque fort located in the forest. Ranthambore National Park was once the hunting site of Jaipur Royal. But today, Ranthambore National Park is counted among the best places to see Tiger in India and due to ancient ruins inside the park, Ranthambore is also considered as a foremost heritage site.
The nearest airport to Ranthambore is Jaipur, which is approximately 165 km away, and the nearest railway station is Sawai Madhopur, which is around 14 kilometers away from the park's main entrance.
At the beginning, there were 5 zones in the park and the National Park was gaining popularity, so other zones were expanded to accommodate the crowd of the park and now there are total 10 zones in Ranthambore National Park.
By filling out the Safari booking form here, you can reserve your seat online in any of these zones. You can choose either the Canter or the Gypsy as a mode of transport for the jungle safari in Ranthambore.
To get your favorite safari zone in Ranthambore, we advise you to book Safari in advance. Ranthambore advance online Jungle Safari for visitors is open for 365 days. The preferred safari zone in Ranthambore depends on its availability while booking. Visitors can book tickets and zone one year in advance. Although all the safari zones of the Ranthambore Tiger Reserve are good and all safari zones have tiger territory, although tiger sighting is matter of chance in the forest and it relies entirely on your luck.
There are two types of safari vehicles for the jungle safari in Ranthambore National Park. Safari vehicles include jeeps and canters. The number of vehicles is limited for park visit by the forest department. Private vehicles are not allowed in the park.
Ranthambore National Park is basically divided into 10 Safari zones by the Forest Department, Rajasthan Government. A common perception of people is that the tiger's sightings are only in the zones 1 to 5, whereas the sighting of the tiger is also occurs in the zone 6 to 10. Tigers are territorial animals who like to mark their territory and then preserve them very fiercely. All safari zones in Ranthambore have tiger territory. All Safari zones are good and offer beautiful and phenomenal scenes in Ranthambore National Park.
Different safari zone of Ranthambore National Park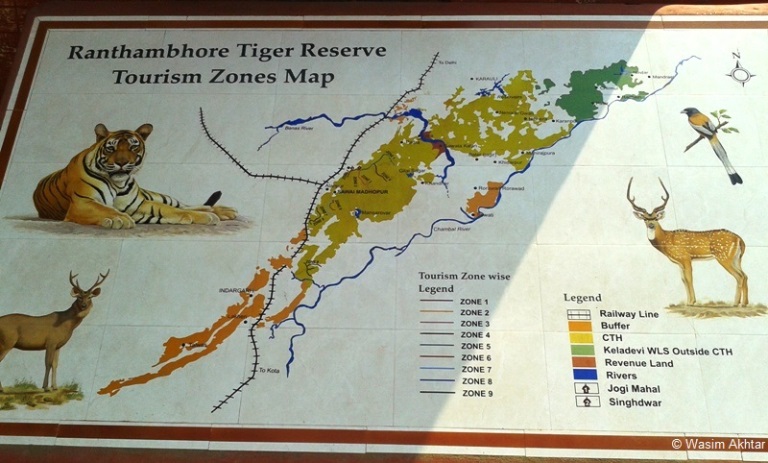 There are 10 different safari zones in Ranthambore to promote tourism. These safari zones are well maintained under strict rules and regulations by the park's protection authorities. To know areas of high potential for tiger sighting in Ranthambore, See the main safari zones and points which are mentioned below:
ZONE 1: To enter this zone, the "Singhdwar" (gateway) is its entry point. Main tour points of Zone 1 are Tuti Ka Nala, Dhoop Chowk, Amreshwar Dang, Sultanpur Chowki, Gada doob dam anicut , Khariya and Kala Peela Pani and exit from Singhdwar.
Tigers and other wild animals can be seen anywhere in the forest. Albeit you can get good opportunities to see tiger in these areas, these areas include Tuti ka Nala, Amreshwar Dang, Sultanpur, kharia, kala-Peela Pani and Gada Doob.
Tigers can often be seen on the Singhdwar, kharia and kala-peela pani. This is popular place for regular tiger sighting in zone 1.
You can expect here to see the Tigress T-39 Noor and her cubs and the male tiger T-57
ZONE 2: This zone is one of the most important zones for jungle safari in Ranthambore and a good number of tiger sighting have been reported from this safari zone.
The main entrance to this zone is Jogi Mahal gate and this is also the exit gate of this zone after the jungle safari. The location to be covered in this zone are Bada Darwaza ( Big Gate), Jhalra area, Parniya, Naal Ghati or Kamal Dhaar, Amraahi, Telan Pacheri, Phuta Banddha, Rishi Ka Deh, Pandu Deh, Phuta Kot, Laahpur Tirahaa, Gaandra Deh and Guda Chowki.
The important points of the tiger sighting in zone 2 are:  Jogi Mahal area, Phuta Kot, Phuta Bandha, Lahpur Tiraha, Nal Ghati.
The tigers that appear in this zone are tigressT-60 and her cubs, T-39 and male tigerT-57. This zone is also good habitat of the leopard.
ZONE 3: This is the most preferred safari zone of the wildlife photographers in Ranthambore National Park. Its main reason is Raj Bag Lake, Malik Lake and Padam Lake and its landscape is very beautiful. The ancient historic Ranthambhore fort stands in its pride in the background of this zone, which makes this zone even more scenic. The entrance to this zone is also Jogi Mahal Gate and after the safari, we have to exit of this gate.
Important points coming in this zone are Padam lake, Rajbagh lake, Rajbagh platform, Rajbagh boring, Kadam Khandi,Doodh Baawri,Mandook, High Point, Tapman ka Nalah and Karonj Ka Nalah.
The primary point of tiger sighting in zone 3 is Jogi Mahal, Padam Talab, High Point, Raj Bagh and Mandook. The lake located in this zone is one of the convenience points where you can wait to see the action of T-84 aka Arrowhead, T-86 and some other big cat in this area.
ZONE 4: The entrance and exit to this zone is the Singhdwar. During the Safari, the main places to come in this zone are Singh Dwar (entry point), Gular Kui, Tamba Khan, Malik Talab, Lakkad Da Chowki, Magar Deh, Mendki Deh, Baba KI Gufa, Aadi Dant, Aadi Dagar, Berda, Bhanwar deh, Semli, Bhoot Khurra, Lambi Ka Nalah.
There are lots of places in this zone where different tigers can be seen. Some part of Malik Lake comes in this zone and the tigers of zone 3 can be seen at Malik Lake. It was also home to the world most famous tigress "Machali" T-16. Big cats can be seen in this zone, which are T-19 aka krishna and her cubs, T41 aka Laila and her cubs, T-74 and T-75.
There are important points where tigers can be seen on Zone 4: Singhdwar, Malik Lake, Lakkar Da, Aadi dant, Lambi Ka nala, Tamba Khan and Berda.
ZONE 5: The entrance of this zone is also from the Singhdwar , which is the entry and exit gate of the Zone 4 & 5 in Ranthambhore. There is only one route up to the Tamba Khan for both zones. However for the jeeps, a separate route has been made from Singhdwar to Tamba Khan.
The main point to see of this zone are Singh Dwar, Gular Kui, Tamba Khan, Jokha, Takiya Kui, Pili Ghati, Kachida valley, Dhakda, Bagdah Tiraha, Anatpura, Bakhola.
Tigers seen in this zone are T-83 aka Lightning, T-73 with her cubs including female T-102 and male cub (T-73 is daughter of T-17 and known as Queen of kachida), T-64 aka Aakash (Mostly spotted in Bakhola area), Sometimes T-41 is seen at Zone 5.
Considering the increasing number of tourists, Later, Zone 6-10 has been added to the Ranthambore Wildlife Sanctuary by the Forest Department and access to these zones is in the opposite direction of Zone 1-5. To enter these zones, safari Gypsy and Canter pass through the old town.
ZONE 6 (Kundal): This Safari zone is also known by its old name "Kundal". The boundaries of this zone are adjoined with Zone 1, therefore the probability of seeing the tigers that are on Zone 1 are very high.
The entry and exit of this zone is from the Raj Bagh Naka forest department check post. Important tourist points of this zone are Rajbagh Naka, Palli Darwaza, Kundal Area, Patwa Baori, Sonkach, Saran Ke Patthe , Soleshwar ka Nala and Kala Pani.
The tigers that sight in this zone include T-8 aka Ladli and its cubs, male Tiger T-34 aka Kumbha. Apart from this, sometimes Tigress T-39 and its cubs and Tiger T-57 can also be seen.
Since this zone is close to the town, some cattle wanders in the forest and T-34 aka Kumbha monitors them and hunts them by looking at the opportunity.
The landscape of zone 6 is quite different from zone 1-5 and there are open grasslands with huge Aravalli Mountains in the background, which makes this zone more beautiful than other zones.
Wild animals found in this zone include Sloth Bear, Leopard, hyena, Indian Gazelle, Blue bull, spotted deer, Sambar deer etc. and lots of species of birds.
This zone has become Ranthambore' s most popular safari zone among tourists and wildlife photographers.
ZONE 7 (Chidikho):  The entrance of this zone is also from the Raj Bag Naka and location of this zone is in front of Zone 6. This zone has fewer points than Zone 6 and others zone. The reason for this is the mountainous terrain and steep climbing in this zone. However, the forest department has made water body in this zone. In this zone the bird's eye view of the forest attracts the heart of tourists.
Important points during the jungle safari are Chidikho, Jamoda, Kushalipura. Exit from Rajbagh Naka.
This zone is the territory of T-61 and its cubs. In this zone, T-8 and her cubs and T-34 are often seen.
ZONE 8 (Balas):  This zone known as "Balas" It is a haven for wildlife which lies in the scenic area of the Aravalli Hills. This safari zone is an ideal place for safari in Ranthambore National Park. This zone offers rugged hillsides, beautiful scenery and wildlife. It is one of the best habitats of Leopard, besides this, quite a lot of birds are seen here. These include Honey Buzzard, Indian Courser etc.
Important place to see during safari of this zone are Balas, Neemli Dang, Kali Bhat, Kherai, Mahakho. Exit from Balas gate.
Zone 7 and 8 are both adjacent to each other, therefore, tigers living in Zone 7 also mark their territory in zone 8. These tigers include T-61 and her cubs.
ZONE 9 (Kuwal Ji):  This safari zone is located in Phalodi Range of Ranthambore Tiger Reserve. Zone 9 is situated on the banks of the Chakal River in Kuwal Ji or Qual Ji, which is about 45 minutes' drive from Ranthambore Fort Road .
A small protection area on the banks of Chakal River is the home of Tigress T-59 and her two cubs and T-62.
Earlier this zone was home to the male tiger T-42, which is considered the biggest and aggressive Tiger of Ranthambore, now this Tiger can be seen in zone 10.
This place is also famous for the Caracal, sloth bear and aquatic birds.
ZONE 10 (Aantri):  This zone is around 14 kms from Ranthambore Fort Road. The landscape of this zone is very graceful. There are water sources in this zone, where you can see the thrill of wild animals. This zone is a good place for bird watcher also. There are mountainous tracks with some good water bodies in this zone, which is a good bird destination, especially in the winter.
Main travel points in zone 10 are Kushalipura , Bodal , Halonda ,Banskhori and Aantri.
Mainly this zone is home to Tiger, Leopard, Sloth bear, Antelope, Jackal. This zone is the territory of the male tiger T-42 aka Fateh, T-13 and her cubs. Apart from this, sometimes the daughter of T-60 has also been seen.
Tiger territory in Ranthambore safari zones 
 Zones  Tiger Territory 
 Zone 1  Noor (T-39) with Two Cubs and Male Tiger T-57
 Zone 2  Tigress T-60 and her cubs , T-39 with its cubs and T-57
 Zone 3  Arrowhead aka T-84 and T-86 a male Tiger
 Zone 4  T-19 aka Krishna with her cubs , Laila aka T-41 with her cubs and male Tiger T-74 & T-75
  Zone 5  Lightning aka T-83 ,T-73 with two of her cubs including a female T-102 and a male cubs, Aakash aka T-64, T-41 , T-74 and T-75
 Zone 6  Ladli aka T-8 and her two cubs , kumbha aka T-34 , Tigress T-39 with cubs and T-57
 Zone 7  Junior ladali T-61 and her cubs,  T-8 ( ladli) and T-34 (Kumbha)
 Zone 8  Tigress T-61 with her two cubs 
 Zone 9  Tigress T-59 and her two cubs and male Tiger T-62
 Zone 10  Fateh aka T-42(Fateh, Male Tiger), T-13 and her cubs , Sometimes the daughter of T-60 is also seen
This article has been written on August 9, 2018. Tigers and their territories can change in the coming times.
           Safari Zone       How to Book Safari       Safari Vehicles       Safari Timings       Safari Terms & Conditions